Artificial Pet Turf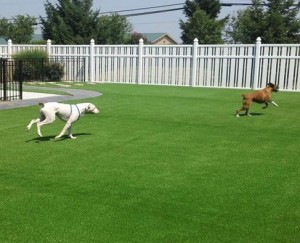 Keepers Turf offers a full range of pet friendly turf products for you and your pets to enjoy. Whether it's one dog or ten dogs, we specialize in selecting the right pet turf product and proper installation technique. Synthetic pet turf is a great solution for the mud and brown spots in your yard.
Pets can make a mess of your lawn. Artificial pet grass is a great solution to unsightly holes, mud, and brown spots in your yard. Pet turf offers ease of clean up and keeps your yard looking beautiful. Pets will love it because it feels like real grass, owners will love it because it's durable and easy to clean!
Benefits of synthetic pet turf:
No more muddy paws
No more wiping the dog off
No more digging or holes in the yard
No more brown spots
Dries quickly so dog comes in dry and clean
Durable for all sizes of dogs
Dog will not be able to dig holes
Safer for pets than natural grass
No bugs, fleas, parasites can live in the turf
Fast draining base allows yard to be used anytime
Keepers Turf carries various types of Pet Systems to match your need
Synthetic Grass Pet Safety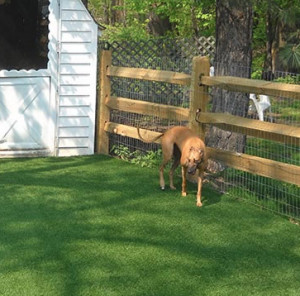 Synthetic grass is not only easy to clean, it is healthy for your pet. Artificial grass removes the need for harmful fertilizers and insecticides. It also reduces the amount of insects and pests in the lawn. Keep your pet healthy with an artificial pet turf install from Keepers Turf.
Keepers Turf has installed a number of artificial pet turfs. Synthetic pet grass is great for:
Backyards
Rooftops
Dog Runs
Pet Training Areas
Concrete Patios
Clean Solution
Artificial pet grass is easy to maintain. It will keep your lawn and your pet cleaner. Water and liquid waste drains more easily than typical lawns. Synthetic lawns also control odor issues with increased drainage. Less waste, mud, insects, and dirt also means that your pet will stay cleaner. They will also track less mess into your home.