Artificial Golf Turf
Keepers Turf can install realistic golf turf for a number of business applications.  We can design and install realistic play synthetic turf for your golf course, driving range, or indoor golf course.  Whatever your need, we can design an artificial grass solution to fit your course.
Our synthetic turf for golf courses is designed to play realistically.  They are designed to be low maintenance and minimal upkeep.  It is a great solutions for a shaded tee box area where the grass won't grow.  Practice putting greens can be put in that never need mowing.  Get the feel of realistic chipping at your driving range without tearing up the grass.
Indoor Golf Grass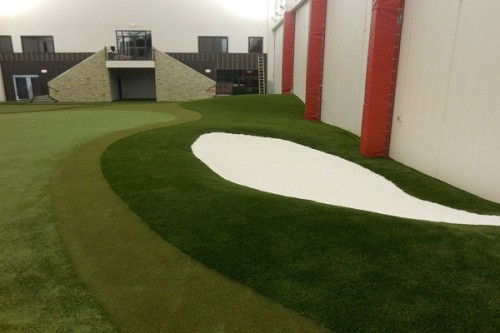 In 2013, Keepers Turf was selected by The Ohio State University to design and install a 12,500 square foot practice course in their new indoor golf facility. The Jane and Walt Dennis Golf Performance Center allows athletes to hit wedge shots up to 40 yards and full shots into netting. The Center also boasts an undulating green-and-bunker complex "where you can hit any kind of shot you'd get on the golf course."
Learn more about this state-of-the-art facility here.
---
Companies we have worked with:
OHIO STATE UNIVERSITY
BETHESDA C.C.
FIRST TEE OF PITTSBURGH
HICKORY NUT GOLF COURSE
RED TAIL GOLF COURSE
UNIVERSITY OF NOTRE DAME
PALMETTO DUNES
BETHESDA C.C
CORNING C.C
BALTIMORE COUNTRY CLUB
STONEWALL GOLF RESORT
WEDGEWOOD GOLF CLUB
ELKRIDGE C.C
VALLAIRE GOLF COURSE