Dayton Synthetic Pet Grass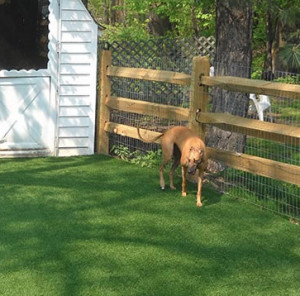 Synthetic grass is not only easy to clean, it is healthy for your pet. Artificial grass removes the need for harmful fertilizers and insecticides. It also reduces the amount of insects and pests in the lawn. Keep your pet healthy with an artificial pet turf install from Dayton Keepers Turf.
Keepers Turf of Dayton has installed a number of artificial pet turfs. Synthetic pet grass is great for:
Backyards
Rooftops
Dog Runs
Pet Training Areas
Concrete Patios
Artificial Pet Turf Dayton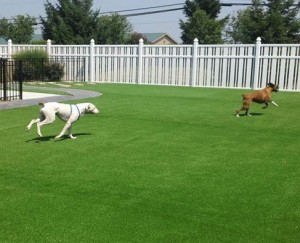 Keepers Turf offers a full range of pet friendly turf products for you and your pets to enjoy. Whether it's one dog or ten dogs, we specialize in selecting the right pet turf product and proper installation technique. Synthetic pet turf is a great solution for the mud and brown spots in your yard.
Pets can make a mess of your lawn. Artificial pet grass is a great solution to unsightly holes, mud, and brown spots in your yard. Pet turf offers ease of clean up and keeps your yard looking beautiful. Pets will love it because it feels like real grass, owners will love it because it's durable and easy to clean!
Benefits of synthetic pet turf:
No more mud, brown spots or holes
Pet waste won't discolor or stain
Soft feel to your pets
Less mud and mess tracked into the home
Non-Toxic Won't harm your pets
Less time caring for your lawn
Clean Solution
Artificial pet grass is easy to maintain. It will keep your lawn and your pet cleaner. Water and liquid waste drains more easily than typical lawns. Synthetic lawns also control odor issues with increased drainage. Less waste, mud, insects, and dirt also means that your pet will stay cleaner. They will also track less mess into your home.
North: 440-653-7971
South: 513-370-3677